Fiction (Science Fiction & Fantasy)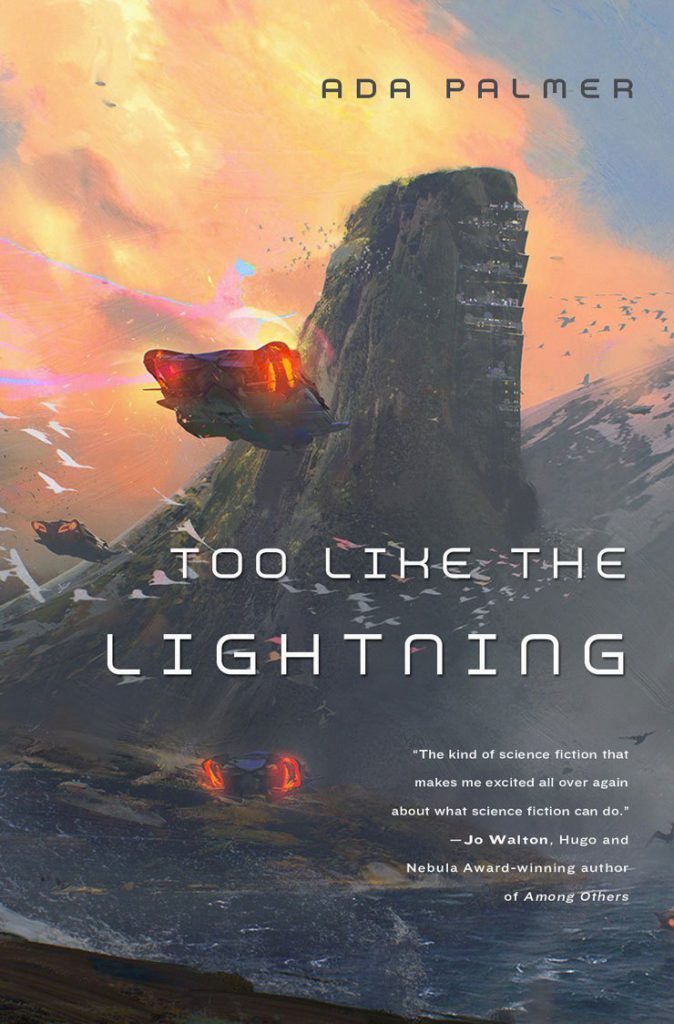 My first novel series Terra Ignota is published by Tor Books. Book one, Too Like the Lightning, came out May 10th, 2016.  You can order it from Powell's, from Barnes & Noble (nook), Amazon, Kobo, or use Indiebound or Goodreads to find local stores.
Here is its pitch from Tor.com, drafted by my wonderful editor Patrick Nielsen Hayden, which does a much better job introducing the book than I have ever managed:
Too Like the Lightning
This May, Tor Books is proud to launch the first novel in a new political science fiction series, Too Like The Lightning by debut novelist Ada Palmer. Palmer's unique vision mixes Enlightenment-era philosophy with traditional science fiction speculation to bring to life the year 2454, not a perfect future, but a utopian one, described by a narrator writing in an antiquated form to catalog the birth of a revolution. The result is The Iliad meets I, Claudius mixed with the enthusiasm of The Stars My Destination and Gene Wolfe style world building.
Mycroft Canner is a convict. For his crimes he is required, as is the custom of the 25th century, to wander the world being as useful as he can to all he meets. Carlyle Foster is a sensayer–a spiritual counselor in a world that has outlawed the public practice of religion, but which also knows that the inner lives of humans cannot be wished away.
The world into which Mycroft and Carlyle have been born is as strange to our 21st-century eyes as ours would be to a native of the 1500s. It is a hard-won utopia built on technologically-generated abundance, and also on complex and mandatory systems of labeling all public writing and speech. What seem to us normal gender distinctions are now distinctly taboo in most social situations. And most of the world's population is affiliated with globe-girdling clans of the like-minded, whose endless economic and cultural competition is carefully managed by central planners of inestimable subtlety. To us it seems like a mad combination of heaven and hell. To them, it seems like normal life.
And in this world, Mycroft and Carlyle have stumbled on the wild card that may destabilize the system: the boy Bridger, who can effortlessly make his wishes come true. Who can, it would seem, bring inanimate objects to life…
Perfect for fans of Jo Walton, Robert Charles Wilson and Kim Stanley Robinson, Too Like The Lightning is a refreshing change of pace from the current trend of gritty, dystopian novels. Much like Homer telling of heroic deeds and wine dark seas, Mycroft Canner's narration will draw you into the world of Terra Ignota—a world simmering with gender politics and religious fervor just beneath the surface, on the brink of revolutionary change.
Reviews of Too Like the Lightning:
Ada's Guest Blog Posts:
Read an excerpt:
Author's Comments:
I think of this series as "Future Historical Fiction," because it is set a few centuries in Earth's future, but is written in the style of an Eighteenth-Century memoir or philosophical novel, like Candide. It is filled with period-feeling philosophical and historical asides, but freely mixes discussions of real history with the invented future events between the present and its future setting.  It thus mixes elements of science fiction with historical fiction, and also strong hints of mystery and political intrigue.
In fiction, I enjoy extensive worldbuilding, and I like how fantasy and science fiction elements make it possible to explore powerful moral and philosophical situations.  A friend once said she thought I had summed up my work well when I commented: "A story without metaphysics is like a day without gelato–it might be excellent, but wouldn't it be even more excellent with gelato?"
My favorite authors, the ones which have had the most impact on my writing style, are, within the world of fantasy and science fiction, Alfred Bester, Gene Wolfe and Samuel R. Delany.  In the broader realm of literature I would say my biggest influences are Diderot, Voltaire, Robert Graves, Sir Arthur Conan Doyle, and the Robert Fagles translations of Homer.  If you read all nine of them in rapid succession and then fall asleep while thinking about flying cars, you might have an experience somewhat like reading Too Like the Lightning.  Maybe.
Read more of my comments about the series, and the cover art, in my Cover Reveal Post on Ex Urbe.
FAQ:
Q: "Aaaaaaaaaaaaaaagh!"
A: "February 21st!  Book 2 comes out February 21st! It's done! Tor has it! Even the page proofs are done! You don't have to worry about the wait!"
Q: "I remember hearing you had a novel called Dogs of Peace, or Servants of the World."
A: "Those are older titles for what is now Too Like the Lightning.  I always wanted the title to be Too Like the Lightning, but we went through some other provisional titles too. Titles are hard to get right, but Lorenzo Valla changed De Summo Bono to De Voluptate more than a decade after he started circulating the text, so I'm in good company."
Q: "What are the two people in the foreground of the Seven Surrenders cover supposed to be?"
A: "Not sure, but they have the Mitsubishi symbol on their backs, so maybe some kind of Mitsubishi honor guard? The view seems to be looking across Romanova from the Quirinal hill toward the Capitoline hill with the Palatine behind, and lots of Mitsubishi live on the Quirinal. If you look very closely at the hill you can see the flags of the Utopian, Masonic and Greenpeace Mitsubishi groups just visible at the edge of the blue haze.  So cool!"
Links Related to the World of Terra Ignota:
In the years between starting to write these novels and their long-awaited publication, many news items have come my way (often sent by friends who read the manuscript) about little advances in the real world that parallel things I imagined in my world-building. Here are some of the most fun, with my notes in parentheses of what Terra Ignota world-building element they relate to. With the exception of the Mojave spaceport (which is what Apollo Mojave is named for) these are all developments which were sent to me well after I had invented parallel things for my imagined future: