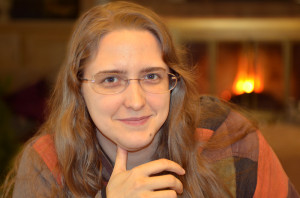 Welcome to the home page of Ada Palmer. I am an historian, an author of science fiction and fantasy, and a composer. I teach in the History Department at the University of Chicago.
Here you will find information about my works and activities, samples of my writing and music, links to publications and blog pieces, my curriculum vitae, my forthcoming schedule of teaching, public presentations and concerts, and other useful information.  The site is subdivided by my different areas of activity, but you can find combined information under the "publications" tab.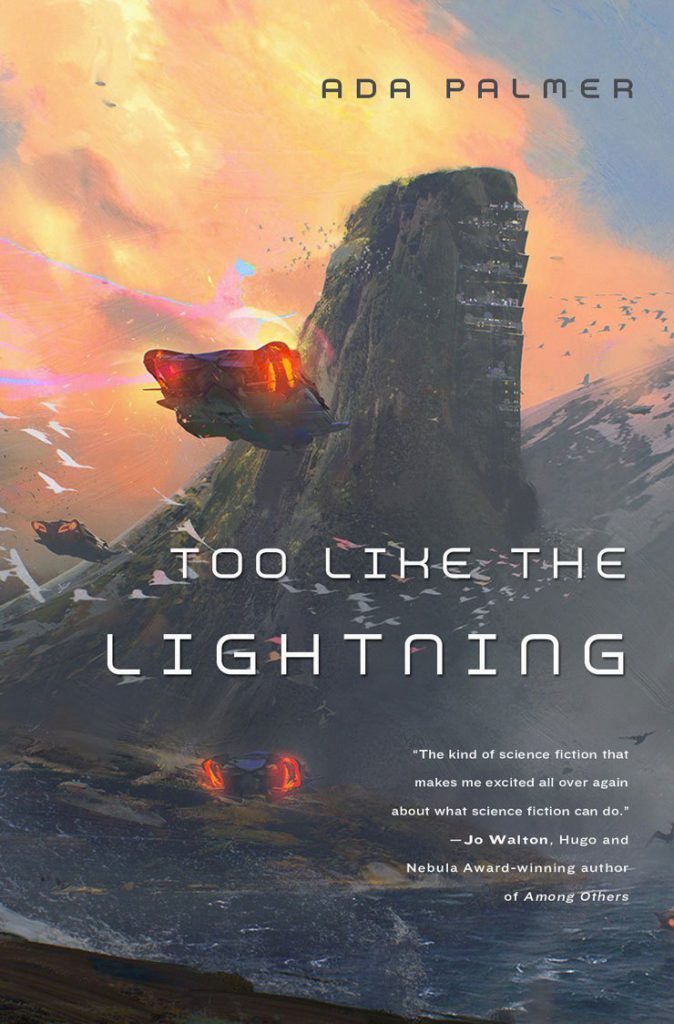 NEWS: The cover has been revealed for my first science fiction novel Too Like the Lightning, book 1 of the four volume series Terra Ignota.  
This book is hard to categorize into any familiar subgenre. The narrator, Mycroft Canner, is a convict, who, as is the custom of the 25th century, has been sentenced to wander the world being as useful as he can to all he meets. In his future, a global network of flying cars makes it so easy to hop from continent to continent that Earth is as interconnected as a city and its suburbs, so cultural forces like nationalism, religion and political ideology touch all corners of the world at once.  As Mycroft describes an unfolding crisis of global politics, his lively voice–inspired by 18th century authors like Voltaire and Diderot–looks backward as well as forward, exploring how the problems of 2400 have roots in the events of 2100, 1900, 1700, back to antiquity.
Book 1 comes out May 10th, 2016.  You can pre-order it from Powell's, Barnes & Noble (nook), Amazon
, Kobo, or use Indiebound or Goodreads to find local independent bookstores.
For more info see the Fiction tab, the Tor.com Cover Reveal, or my Cover Reveal post on ExUrbe.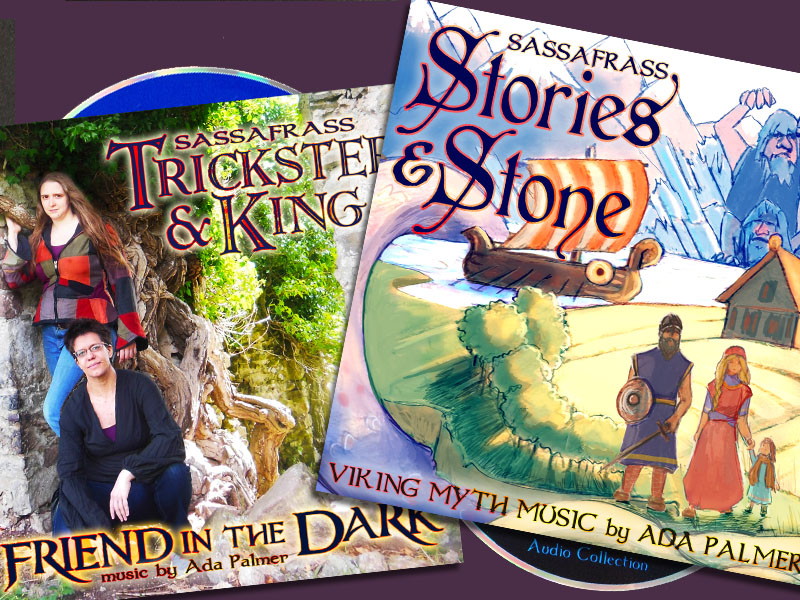 I recently ran a new Kickstarter  campaign to fund new music and other projects.  It was a great success, finishing 161% funded, at $9,291. The goal was to produce the CD "Stories & Stone," which contains variant recordings of my Norse Myth music. Thanks to the additional funds, the campaign will also support "Friend in the Dark," the first album created by myself and my singing partner Lauren Schiller performing as the duo "Sassafrass: Trickster & King." Most of the music is finished and streaming online. Check out the campaign.
Public Appearances:
 Upcoming Talks, Conventions and Concerts:

January 19: "Renaissance Biographies of Classical Philosophers" research talk at the Renaissance Seminar (Chicago)
February 11-14: Capricon 2016 (Chicago)
February 19-21 2016: Boskone 2016 (Boston)
February 25: Talk on the Florentine Monastery of San Marco (Lumen Christi Institute, Chicago)
March 18-20: Vericon 2016 (Harvard University)
March 25-27: Anime Boston 2016
March 31 to April 2: Renaissance Society of America Conference 2016
May 8-10: The Promise of the Vatican Library (University of Notre Dame)
May 10th: Official Release Date for Too Like the Lightning
May 27-30: Balticon 2016, including the launch party for Too Like the Lightning
August 17-21: Midamericon (Worldcon) 2015 (Kansas City)

Recent Talks, Academic Conferences, and Workshops:

Feb. 24th 2015: "Dante Alighieri," Figures of Renaissance Reform and Renewal non-credit course, Lumen Christi institute, Chicago.
March 2nd: "Active and Monastic Life in Humanist Biographies of Pythagoras," Western Mediterranean Culture Workshop (University of Chicago).
March 3rd: "The Syncretic, Radical and Hybrid Christianities of Renaissance Humanists," Figures of Renaissance Reform and Renewal non-credit course, Lumen Christi institute, Chicago.
March 23-24: "The Inversion of Epicureanism in Lorenzo 

Valla

's De Voluptate," at Beyond Reception:

Renaissance Humanism and the Transformation of Classical Antiquity

 (Berlin).
March 27-29: "The Influence of Spuria and Forgeries on Renaissance Neoclassicism: The Recovery of the Stoics, 1400–1664," at the Renaissance Society of America Conference (Berlin).
June 4th: Talk with pre-circulated readings, "Underground manga movements, and their influence on the formation of contemporary manga." Organized by the Chi Chi Chi academic honours fraternity, RSO Conference Room at the 5710 Diversity Center.
July 31-August 2: Mythcon, "Norse Hour" with poetry by Jo Walton and music by Sassafrass: Trickster & King.
August 9th: Reading from "Too Like the Lightning", one of many author readings at the Tiptree Awards Special Ceremony, at Borderlands in San Francisco (3 PM).
August 17th:

 Interviewing Jo Walton at her reading at Powell's (Portland, 7 PM), with music by Sassafrass: Trickster & King.

August 19-23: Sasquan (Worldcon, Spokane) panels, reading from "Too Like the Lightning" and concert by Sassafrass: Trickster & King.
October 23-25: Ohio Valley Filk Festival 2015
November 13-15: Windycon 2015 (Lombard Illinois).
November 22: Anime Chicago Symposium Series "Osamu Tezuka God of Manga" (Cards Against Humanity Theater, Chicago).
Recent and Upcoming Teaching:
Spring Quarter 2015:

Italian Renaissance (Tues/Thurs 12 to 1:20; open to undergraduate and graduate students including non-history-majors. The course catalog says "upper level undergrads only" but if you are a newer undergraduate and interested in the course, you would be welcome.)
Renaissance Humanism (Tuesday 3 to 5:50; graduate course with hands-on rare books work, hosted in the rare books rooms of the library, open to undergraduates upon request)

Fall Quarter 2015: on leave.
Winter Quarter 2016: on leave.
Spring Quarter 2016: on leave.
Fall Quarter 2016: Italian Renaissance (undergraduate course), Patronage and Culture in Renaissance Italy and Her Neighbors (Two-Quarter Graduate Research Seminar)
Winter Quarter 2016: European Civilization I (Core), and the second half of my two-quarter graduate seminar sequence Patronage and Culture in Renaissance Italy and Her Neighbors.