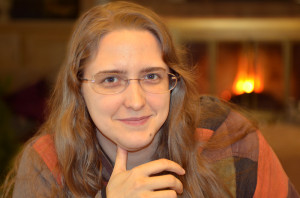 Welcome to the home page of Ada Palmer. I am an historian, an author of science fiction and fantasy, and a composer. I teach in the History Department at the University of Chicago.
Here you will find information about my works and activities, samples of my writing and music, links to publications and blog pieces, my curriculum vitae, my forthcoming schedule of teaching, public presentations and concerts, and other useful information.  The site is subdivided by my different areas of activity, but you can find combined information under the "publications" tab.
Public Appearances:
Recent Academic Conferences, Talks and Workshops:

Feb. 24th: "Dante Alighieri," Figures of Renaissance Reform and Renewal non-credit course, Lumen Christi institute, Chicago.
March 2nd: "Active and Monastic Life in Humanist Biographies of Pythagoras," Western Mediterranean Culture Workshop (University of Chicago).
March 3rd: "The Syncretic, Radical and Hybrid Christianities of Renaissance Humanists," Figures of Renaissance Reform and Renewal non-credit course, Lumen Christi institute, Chicago.
March 23-24: "The Inversion of Epicureanism in Lorenzo 

Valla

's De Voluptate," at Beyond Reception:

Renaissance Humanism and the Transformation of Classical Antiquity

 (Berlin).
March 27-29: "The Influence of Spuria and Forgeries on Renaissance Neoclassicism: The Recovery of the Stoics, 1400–1664," at the Renaissance Society of America Conference (Berlin).

Upcoming Talks, Conventions and Concerts:

May 22-25: Balticon (Baltimore, MA).  Concert (Sassafrass), panels.
June 4th: Talk with pre-circulated readings, "Underground manga movements, and their influence on the formation of contemporary manga." Organized by the Chi Chi Chi academic honours fraternity, RSO Conference Room at the 5710 Diversity Center.
August 19-23: Sasquan (Worldcon, Spokane).
Current and Upcoming Teaching:
Spring Quarter 2015:

Italian Renaissance (Tues/Thurs 12 to 1:20; open to undergraduate and graduate students including non-history-majors. The course catalog says "upper level undergrads only" but if you are a newer undergraduate and interested in the course, you would be welcome.)
Renaissance Humanism (Tuesday 3 to 5:50; graduate course with hands-on rare books work, hosted in the rare books rooms of the library, open to undergraduates upon request)

Fall Quarter 2015 (provisional): on leave.
Winter Quarter 2016: on leave.
Spring Quarter 2016: on leave.