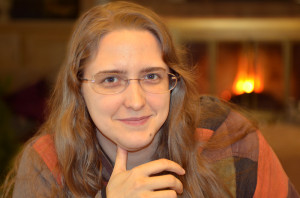 Welcome to the home page of Ada Palmer. I am an historian, an author of science fiction and fantasy, and a composer. I teach in the History Department at the University of Chicago.
Here you will find information about my works and activities, samples of my writing and music, links to publications and blog pieces, my curriculum vitae, my forthcoming schedule of teaching, public presentations and concerts, and other useful information.  The site is subdivided by my different areas of activity, but you can find combined information under the "publications" tab.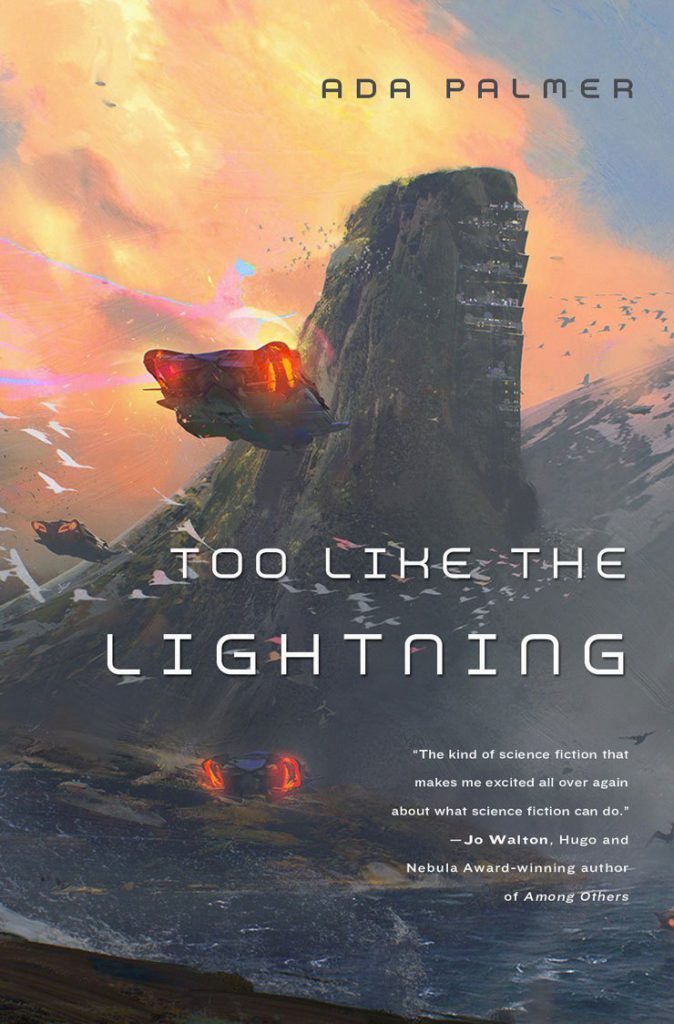 THE NOVEL: Recent praise for my first novel Too Like the Lightning, book 1 of the four volume science fiction series Terra Ignota:
"The kind of science fiction that makes me excited all over again about what science fiction can do." – Jo Walton
"Ferociously intelligent, narrated in a ravishing voice, Too Like the Lightning is the kind of science fiction I've been craving for years." – Sherwood Smith
"In an age when science fiction tropes are cycled through every variety of mass media to the point of numbing familiarity, can an SF novel still surprise us?  Yes, if that novel is Ada Palmer's Too Like the Lightning.  The writing is bold, furiously inventive, and mesmerizing.  The novel's thematic concerns place it in the great tradition of philosophically and historically savvy science fiction, but it addresses those concepts in wholly new and startling ways.  It's the best science fiction novel I've read in a long while, and it stands as powerful evidence that the sf genre is still a treasure box overflowing with wonders." – Robert Charles Wilson
"Too Like the Lightning is a brilliant matryoshka tale that spans classical philosophy and far-future technology, weaving both together through a complex fabric of characters and intrigue in Palmer's vivid future utopian society. Aspects of the book may bring to mind the sweeping scope of Asimov's Foundation series, Stephenson's Baroque Cycle, Thomas More's Utopia, and even the numerous layered intricacies of 15th century Dutch painters like van Ecyk and Breugel. Despite such weighty forebears, the interplay of light and beauty — and play itself — within the depictions of Palmer's layered narrative evoke a virtuosity that inspires multiple reads and passionate discourse. An exquisite and daring debut. This is a book I expect to acquire several copies of, for sharing and keeping both." – Fran Wilde
About Too Like the Lightning:
This book is hard to categorize into any familiar subgenre. The narrator, Mycroft Canner, is a convict, who, as is the custom of the 25th century, has been sentenced to wander the world being as useful as he can to all he meets. In his future, a global network of flying cars makes it so easy to hop from continent to continent that Earth is as interconnected as a city and its suburbs, so cultural forces like nationalism, religion and political ideology touch all corners of the world at once.  As Mycroft describes a crisis of global politics, his voice–inspired by 18th century authors like Voltaire and Diderot–looks backward as well as forward, exploring how the problems of the 25th century have roots in the 21st, the 19th, the 18th, back to antiquity.
You can order "Too Like the Lightning" from Powell's, Barnes & Noble (nook), Amazon
, Kobo, or use Indiebound or Goodreads to find local independent bookstores. For more info see the Fiction tab, the Tor.com Cover Reveal, or my Cover Reveal post on ExUrbe.
Recent Music: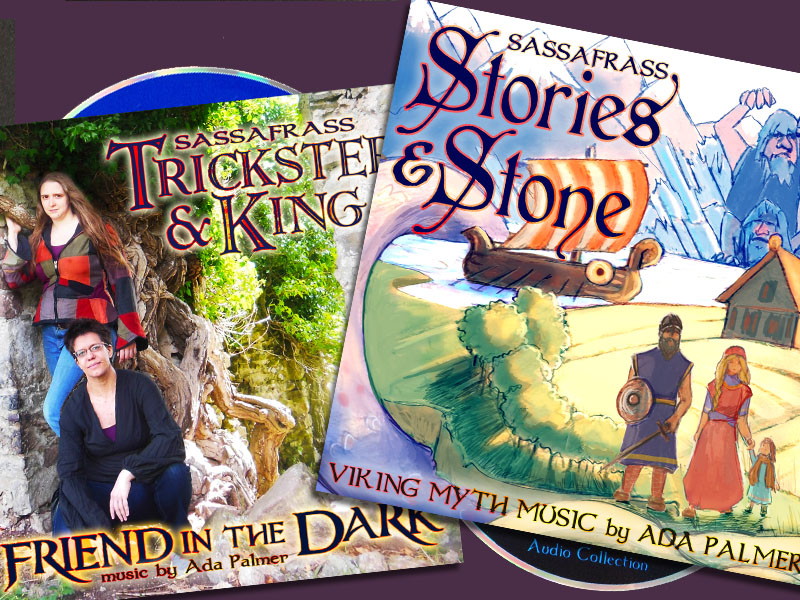 I recently ran a second Kickstarter campaign to fund new music and other projects.  It was a great success, finishing 161% funded, at $9,291. The goal was to produce the CD "Stories & Stone," which contains variant recordings of my Norse Myth music. Thanks to the additional funds, the campaign will also support "Friend in the Dark," the first album created by myself and my singing partner Lauren Schiller performing as the duo "Sassafrass: Trickster & King." Most of the music is finished and streaming online. Check out the campaign.